Review: Enchanter by Kawachi Izumi
Posted by Darwin - 16/04/09 at 09:04 pm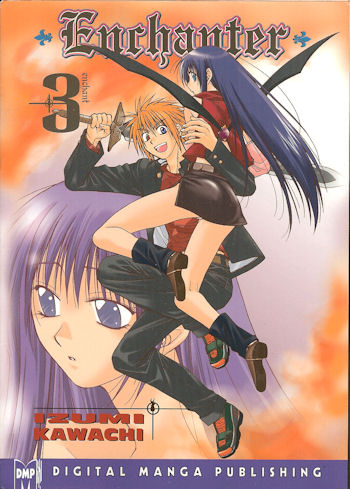 Okay, we all know that there are no new ideas in fiction, right? Especially when it comes to manga.  The Japanese are absolute masters of running over the same opossum to the point that they'll vary the positions of the entry and exit of the tire treads by millimeters just to see what changes on the carcass.
I suspect you might know where I'm taking this, but suffer with me for a moment longer.
Enchanter is a "magical girlfriend" story.  That kind of says it all.  You end up with some powerful magic chick forcing her way into a hapless and altogether too wishy-washy main male character's life and then milking the situation for all comedic situations that it's worth.  It was old when 3X3 Eyes and Ah, My Goddess! took it up and, let me tell you, it's still pretty darned cliche.
BUT THIS IS THE JAPANESE WE'RE TALKING ABOUT.
So, guess what, Enchanter isn't Ah, My Goddess! or 3X3 Eyes and the reason that there's so much magical girlfriend manga out there is because it's fun genre for guys to read.  Usually because of the fan service and the general comical nature of the stories.
Okay, mostly the fan service.  And Enchanter does NOT disappoint in that regard.
Enchanter.  Right.  The main character is Kanou Haruhiko, a normal 17 year-old boy with straw yellow hair in Japan.  (Yeah.  Straw yellow.  Not making this up.  It's in the book.)  Our boy Haruhiko has woman problems in the fact that he's crushing majorly on his next-door neighbor/childhood friend/chemistry teacher, Yuka.  Because of a congenital lack of manly spine condition, he's been totally stymied as to moving forward with his once-sided affections (big shock, I know) and has instead taken up the role of being Yuka's ever ready handy-man for fixing issues with gadgets.
Wuss.
So, one fine day and into this pathetic example of a weak opening crashes the gorgeous and slinkily dressed demoness, Eukanaria…WHO, it would just so happen to turn out, looks like our hero's beloved Yuka after a five day undercover op as a hooker in Akihabara.
I am so not making this up.  The mangaka in question, Kawachi-sensei, is a woman, I believe, and loves to draw her demonesses in skin-tight tops that leave nothing about the characters' always-aroused nipples to the imagination and mini-skirt outfits that expose panties so tight that the labia and buttocks are very well defined and constantly exposed.  Whether projection or not, that's the style and as a flaming heterosexual male, I have a hard time being upset by it.
Female readers, eh.  Perhaps not so forgiving.
Anyway, the entry is pretty shallow at first.  Eukanaria is after Haruhiko because he looks and "smells" like her lost lover, Fulcanelli (whose soul she keeps on a pendent nestled safely between her bazooms.)  Downside for Haruhiko?  She only wants his body, not his soul.  And that's it.  She doesn't want to force his soul out on the off-chance that she'll damage his body doing it, so she's constantly on the prowl for ways to get him to let his guard down and provide the optimum moment to pull of the switch and resurrect her lover.
And if you guess that during the climax of sex is one of the times that's optimum, you're not immune to flashes of the bloody obvious.
Right.  That's enough of the sarcasm.  Here's my honest assessment.  Enchanter starts off with great art and a shallow story line.  The shallowness comes and goes throughout the series, but an actual story with multiple arcs does develop and it happens fast in the first volume.  Kawachi-sensei is a perv, frankly, but she also knows how to tell a decent story with characters that actually develop well over the course of the telling.  Frankly, I'm hooked.  It's fun to read and touching at times (especially the Mercurio story arc).  It's silly and doesn't take itself too seriously, ever, which makes for a wonderful, relaxing read.
Did I mention the nipples?  Oh, good.  Don't want to forget those.