New Release Wednesday: The Bight by A.L. Sirois
Posted by Darwin - 29/06/11 at 01:06 am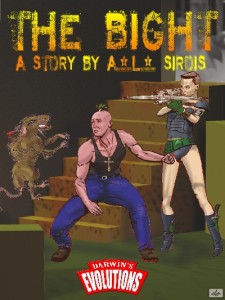 Today's release is by author and artist, A.L. Sirois.  The tale he shares with us today is set in a future some decades ahead of now where a warmer planet and rising seas have resulted in a tropical New York full of interesting and dangerous creatures, both wild and human. It's a fast-paced race through an infested Gotham as a doctor searches both for a medical breakthrough and for a way to hook back up with his son.
The Bight
by A.L. Sirois
Michael Gradowitz flattened himself against the wet, gritty wall as two scumboys – one black, the other Asian – stalked across the opening of the alley in the drizzling rain, twenty-odd feet away. He was ten hours into the worst assignment of his career, sporting a spiky green topknot along with a dozen studs in his ears and several cosmetic scars, and already wishing he'd never agreed to take the job in the first place. He slapped at a mosquito and shrank into the shadows.
When he drew back his hand, he unintentionally touched the crucifix hidden under his sweaty black T-shirt. Its presence didn't reassure him in any way. He would have gladly traded it for his iBand in an instant, but none of the denizens of what had been Manhattan wore an iBand. Without his, he felt cut off and defenseless.
Om Burmek didn't wear an iBand, either. Then again, Om had muscles and Zen awareness, so he didn't need one. Gradowitz's son Eli, along with millions of other twelve-year-olds, followed Om's online adventures. The combat android, samurai-like hero of Eli's favorite stream showed his wisdom and bravery thrice weekly for his adoring young fans as he went up against brigands and monsters along the lawless Japanese coastline as the islands settled into the tepid sea.
His son wasn't impressed by Gradowitz's dedication to medicine. Nothing much about his father had impressed him since his mother had thrown Gradowitz out following his affair with a young hospital aide. Gradowitz saw his son every weekend, but the boy remained distant, behind his own iBand, playing online games or watching online heroes like Om Burmek.
So here he was, competing with a non-existent hero for Eli's admiration. Never mind that, as a doctor, he could have been healing and bringing comfort to the sick, rather than vanquishing evil-doers.
Some warrior, he thought. Maybe if I had my iBand, I could look up some martial arts moves.
More importantly, he could research the weird encrustations and fungi draping the buildings. He couldn't begin to judge which ones were dangerous – or beneficial. Even the most basic on-site investigations required carting specimens back to his lab van in Fort Lee. He was willing to hazard the journey, staying up all night running sequences and getting back downtown before dawn, but Manhattan was quarantined and he was embedded for a month – maybe even longer.
He wiped rainwater from his eyes, tabling the self pity. The scumboys, each wearing animated LED gang tats, moved on.
Gradowitz sighed in relief and slunk to the mouth of the alley to peer out. Om Burmek would have attacked the punks at once. "Screw Om," Gradowitz muttered. He'd have ridden into town on a horse, too, whereas Gradowitz had hiked in across the George Washington Bridge, passing checkpoints there and at the Intrepid on 12th, then down Riverside Drive past the ruins of the Javits Convention Center. There were few, if any, inhabitants that far uptown, which made it ideal for insertions. So he'd had to hoof it from there.
---
The rest of The Bight is available on:
Amazon Kindle
Cover art created by the author.
See our other fine fiction offerings in The Library Store.