Legacy Project Release: Fatecraft by Lindsey Duncan
Posted by Darwin - 10/07/11 at 11:07 pm
I am very pleased to present today's release by Lindsey Duncan. Fatecraft introduces her character Pazia Ke'Lieren, a daserii (dice maker) with a special touch and a knack for finding trouble. Lindsey's style is clear, clean, and easy to immerse yourself in. I hope you will all enjoy this tale as much as I have over the years.
---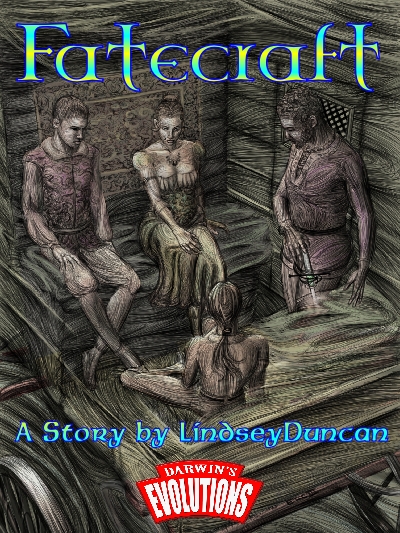 Pazia Ke'Lieren awoke flailing and shouting, nightmare recollections of broken locks and the thugs who had grabbed her hot on her mind. With no clear target in the semi-dark, she felt her foot connect with something soft even as she fell forward and landed hard on the planking of an inordinately fussy carriage. The quiet washed over her: no pounding hooves, no hissing of weather.
Jolted into common sense, she squinted at the pair who reclined on the seats. The man had a flat face, smooth as a river-rock, his frame stone thick. The woman was spindly, long-limbed and gold-complected, accompanied by a touch of stale perfume. They were dressed in tapestried velvet with silk blackwork and discreet jet jewelry, but the fabrics were frayed, a little too old, a little – to the eyes of a mercer's daughter – out of style. The rest of the carriage matched: the curtains had been repaired past their prime, several layers of paint almost disguised the aging of the wood, and…
A foot to her stomach interrupted her assessment. She tried to curse at the guard who loomed over her, but the sound came out as an airless squeak. Outside, the horizon slid past in a blur of grey, stretched thin and level. Pazia had never seen anything like it before, but she pulled together scattered facts and guessed they traveled at ghostglide, a magical means of transportation invisible to the eye – too imprecise for breaking and entering, but impossible to track. It explained why there was no bump or shudder from the horses, only endless motion.
"You have strong lungs, daserii," the nobleman said, his voice as rough as his appearance was polished. "I didn't realize crafting dice was such athletic work."
"I'd be happy to tell you anything you want to know about the art," Pazia replied, ekeing the words out with her precious remaining air, "if you'll let me up and pull the carriage over." Her hand snuck down and clutched the pouch at her side. The point of a pyramidal die poked her in the palm. As if she needed it to tell her that she was in trouble.
A dark and sultry chuckle from the woman, jewel-like fingers toying with a ring on her right hand. "Let her breathe."
The guard stepped off her, but dropped his hand on the hilt of his sword for warning as he did. Pazia sucked in a lungful of air, not caring how it looked, and scrambled onto the seat opposite. The dice clattered in her pouch. "If this is about a set of dice I might have sold your noblenesses or one of your gambling partners," she began, "I've never, nor would I ever, make a crooked pair of dice. It would be disrespectful to them."
"Disrespectful to the dice?" Up went a skeptical eyebrow, yet his expression was thoughtful. "Be that as it may, this is not about business gone wrong. My wife Kadret and I…" a flitting smile of sudden tenderness for his companion, and a coy flick of lashes from her in answer "…wish you to carve something for us. We understand you can work with gemstone and have a particular instinct for dice."
---
The rest of Fatecraft is available on:
Cover art by R.L. Carter