Release Day: The Temple of Taak-Resh by Nyki Blatchley
Posted by Darwin - 01/08/11 at 10:08 pm
This week's release features the fantasy adventure of a pair of young lovers as they try to make their name in the world. Unfortunately, timing is everything and theirs just plain sucks…or does it? In the midst of conflict lies opportunity, if you can survive long enough to grasp it. Please enjoy this fun novelette by gifted storyteller Nyki Blatchley:
---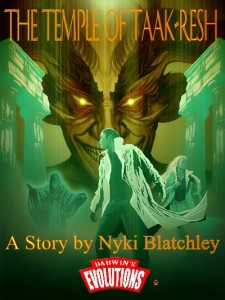 "So this is Hannor."
Failiu looked around the port's bustle. Passengers in garish clothes disembarked, grimy dockers loaded and unloaded vessels, sailors swaggered off to spend their pay, and the usual tide-line of peddlers, food-sellers and whores hovered ready to take it.
"Yes." Karaghr's infectious smile was eager as his glowing eyes surveyed the scene, oblivious to the doubt in her voice. "The greatest port of the Thaal lands. There's a fortune to be made here."
"Oh?" Failiu put into the question all the sophisticated irony she felt appropriate, now that she was nearly seventeen. "By anyone in particular?"
"By us, of course. Don't be silly, Fai."
She sighed at the waste of her urbanity, running a hand through the dirty tangles of her black hair. Kari insisted she looked beautiful even filthy and unkempt, but she wasn't convinced. He looked gorgeous, as always – the gleam in his eyes and the dark hair blowing out rakishly gave him the air of a romantic pirate captain. A very young one.
"Fine, but how are we going to live until we make this fortune, Kari? Remember, you blew the last of our money."
"That's hardly fair. We both agreed it was worth getting passage on the ship."
She cast a grimace back at the battered, leaky merchantman they'd just left. Kari's wounded innocence had her temper threatening to bubble up. "That wasn't our last money. Our last money was what you lost on that stupid bet."
"Well. . .yes." His face took on such a sweet, woeful expression that some of her anger drained away. "I said I was sorry. I'm sure that man cheated me."
A burly sailor, reeking of salt and cheap wine, shouldered her aside. Failiu instinctively checked her purse, before remembering it was empty.
"Oh well, it's done now. The fact remains, we can't afford anything to eat or anywhere to stay. What are we going to do? Sleep in alleyways?"
"We could." He shrugged. "That's how you lived in Errish, after all, before the temple took you in."
"Thanks for that." How could he not realise that it hurt when he brought up her childhood? It was all very well for him, growing up in a secure village where the worst problem was boredom, by his own account. He could be so immature at times, for all that he was a year older than her. "And that's why I know I don't want to do it again. And I want to eat. And I want to get some new clothes."
Failiu glanced down resentfully at the knee-length tunic, dirty and threadbare, that she'd been wearing for at least two months. She was sure there were things other than her living in it.
"Don't worry." The eagerness was back on Karaghr's face. "It'll be easy to sell our sorcery. Remember, they say everyone in Hannor employs sorcerers."
"Well…yes." Failiu had heard this, but how useful would it be? "That means there'll be plenty of them already. Maybe…I don't know…maybe they have some kind of guild, and they won't let outsiders in."
---
The rest of The Temple of Taak-Resh is available on:
Cover illustration by Jesus Garcia Lopez.
See our other fine offerings in The Library Store.