The Temple of Taak-Resh Zip Bundle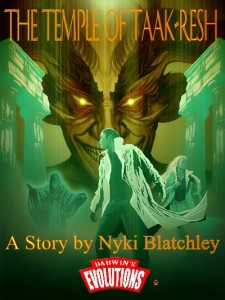 Have an iPad, Kobo, or Sony e-Reader? Or maybe you just want to have complete control over your e-library, free from the capricious whims of a distant corporate entity?
Friend, do we have the deal for you!
Darwin's Evolutions Zip bundles are downloadable ZIP archive files that include your story in MOBI, EPUB, and PDF formats compatible with a variety of the most popular e-Readers, tablets, and smart phones.  Best of all, it's the same price as the e-books sold through Amazon or Barnes and Noble!
Our zip bundles include your story in MOBI, e-Pub, and PDF format (in proportion suitable for e-reader screens). The bundle also includes higher resolution copies of both the story cover page and the original art.
Sku

SF10060

Description

The Temple of Taak-Resh Zip Bundle

Product Options

| # | Option | Price | Download | File Size |
| --- | --- | --- | --- | --- |
| 1 | Download | $0.99 | The Temple of Taak-Resh Zip Bundle | 1.62MB |

Shipping